Commands list
Input handling

Solution control and techniques

Output

Mesh commands

Nodes and connectivity

Material properties

Initial conditions

Boundary conditions

Loads

Contact and tied interfaces

Rigid bodies

Connectors

Parameters and functions

Geometries

Sets

Coordinate system

Particle

Third-party add-ons

γSPH
GEOMETRY_COMPOSITE
Geometries
*GEOMETRY_COMPOSITE


"Optional title"


gid




gid${}_1$, ..., gid${}_8$
Parameter definition
| Variable | Description |
| --- | --- |
| gid | Geometry identification number |
| | |
| gid${}_1$, ..., gid${}_8$ | Up to 8 sub-geometry ID's |
Description
This command is used to combine up to eight sub-geometries into one composite geometry. A negative ID means that the region represented by the sub-geometry will be removed from the composite geometry.
Example
Composite geometry filled with soil
A composite geometry is defined by combining a GEOMETRY_PIPE with a GEOMETRY_BOX. The box is referenced with a negative ID and it cuts a hole in the cylinder defined by the pipe.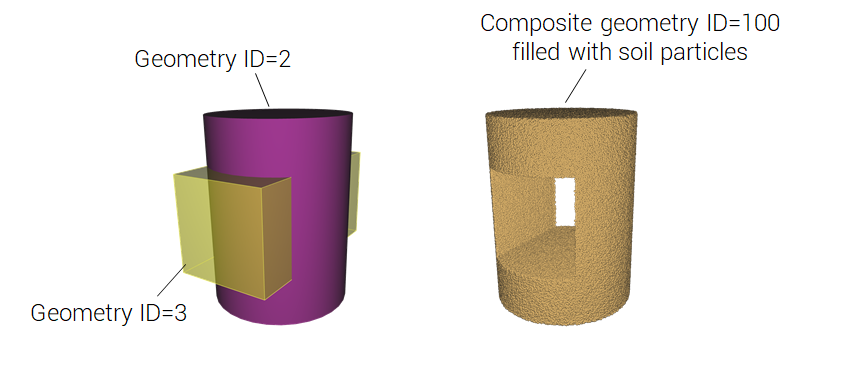 *UNIT_SYSTEM
SI
*PARTICLE_DOMAIN
0, 0, 1.0e6
0, 0, 0, 1, 1, 1
*PARTICLE_SOIL
1
DRY, 100
*GEOMETRY_COMPOSITE
100
2, -3
*GEOMETRY_PIPE
2
0.5, 0.5, 0.1, 0.5, 0.5, 0.9, 0.3
*GEOMETRY_BOX
3
0.1, 0.3, 0.3, 0.9, 0.7, 0.7
*END